Your Content Goes HerThe Kirkpatrick model for evaluation incorporates 4 levels. Transferring learning into behavior requires HRD practitioners to plan learning and application strategies that will measure at least up to level 3 of the Kirkpatrick model for planned evaluation of the learning outcomes. We use an evaluation form just like all other training providers. It validates the approach we take in ensuring the curriculum is designed with ID (instructional design) principles. We take all the evaluation forms seriously and for our training program it culminates with a detailed report that we provide to our clients. The report we provide includes the outcomes of the diagnostic tools used. What you see below is a typical reaction we get for our training programs.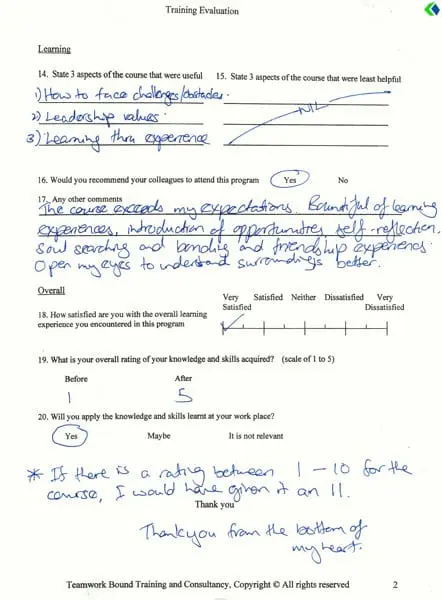 The Kirkpatrick model
The Kirkpatrick model evaluates the following 4 levels:
Level 1 – Evaluation of Reaction
Level 2 – Evaluation of Learning
Level 3 – Evaluation of Application
Level 4 – Evaluation of Results
Detailed below are the consolidated evaluation results for 7 runs of a 2 days experiential customer service training program that was conducted for a Singapore government agency, HPRG, Health Products and Regulations Group. We decided to consolidate the results we had and study it too.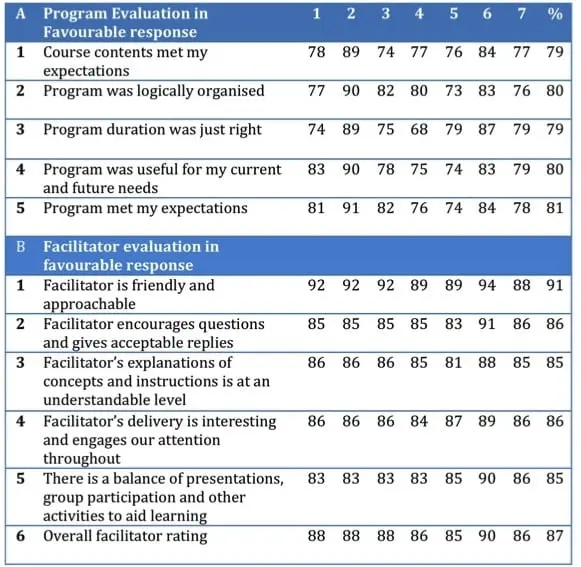 Teamworkbound programs have always met the requirement of maintaining high scores for level 1 evaluation of reactions. Our training programs have also shown dividends at level 2 evaluation of learning. Specifically addressing level 2 evaluation of learning by getting the participants to complete an online test that was developed on our web site. 146 participants completed this facet of the evaluation on line.
Level 2 – Learning
Teamworkbound also undertook a systematic audit of the employees who attended this training program. 85% of the learners were audited over a period of 12 weeks and quantifiable data was produced to showcase elements of skills learnt were being practiced at the work environment. Level 3 evaluation of application of skills undertaken systematically for this organization.
Our efforts in the customization of the curriculum content, delivery and post program audit of skills led to a 2 placing improvement of this organization in an external survey that was conducted by Action Community for Entrepreneurship. This government agency, also bagged the prize for the organization that showed the most improvement in several dimensions in comparison to the previous year.
TeamworkBound training programs are holistic and carries a signature thumbprint of applying the skills that we facilitate are practiced in the work place. This is the difference that we bring to you in our training programs. Do contact us on e-mail if you want to find out more about our training programs on Customer service, Team dynamics, Leadership or our Train the Trainer programs.
Ebnu Etheris, MA.IDT, B Ed&Trn
Related Posts
Here is a quick youtube tutorial on incorporating Kahoot in your training programs. Using tech to facilitate training sessions. From icebreakers to team building using Kahoot can happen in face to face sessions too.

Active book dialogue is an experiential learning technique that you can use to engage participants. We share the approach here. Leave us a comment or two and share with your experience using this.
Top 10 activities
This blog will showcase top 10 experiential activities that we have conducted in our training programs. Included are models associated with experiential learning, team dynamics, understanding personality and leadership. We will showcase crisp summary of good books we have read on this blog as well.
Ebnu Etheris
MA.IDT and B. Ed & Trn
Founder Teamworkbound
Magazine Feature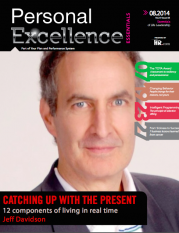 Personal Excellence Magazine (Aug 2014 issue) based in Canada featured our article.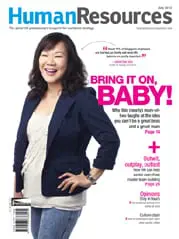 Human Resources Magazine (July 2012 issue), featured Teamwork Bound views on what it takes to engage senior managers.
Our Evaluations
Get started with Teamwork Bound
Want to learn what Teamwork Bound can do for you? See for yourself with a free trial, tests and short in house speaking engagements. We will assure you that our program evaluations meet 85% percentile score, failing which we will not charge for our training sessions.