Patrick lencioni 5 dysfunctions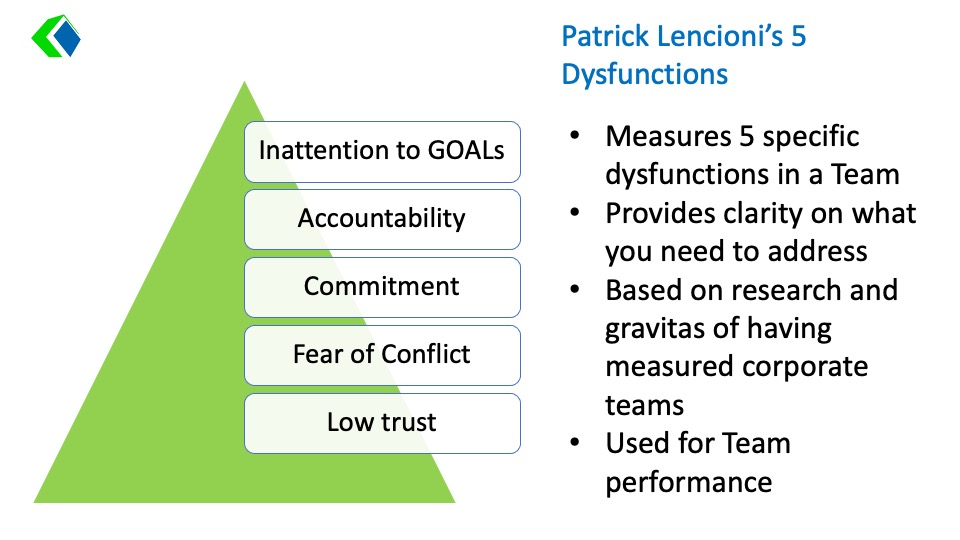 5 dysfunctions of a team
The 5 dysfunctions of a Team test is a comprehensive easy to administer inventory of questions developed by Patrick Lencioni. The  5 dysfunctions of a team test measure 5 traits in the team and hence score these dysfunctions with an aggregate score. Easy to use as an organisational development tool to address specific team traits that requires attention.
The principles of 5 dysfunctions were developed thought management consultations done with CEO's and fortune 500 companies
Absence of trust – Seen as the most severe dysfunction in Teams failing which productive work is hindered
Fear of conflict – Conflict can be productive when there is trusts and best ideas are discussed and challenged
Commitment – When teams don't commit, they also hold back decision making initiatives delaying team performance
Accountability – Failing to take accountability for decisions made and creating team chaos by placing blame
Goals – Passengering through the department and not committing to the goals showing inattention to objectives that needs to be achieved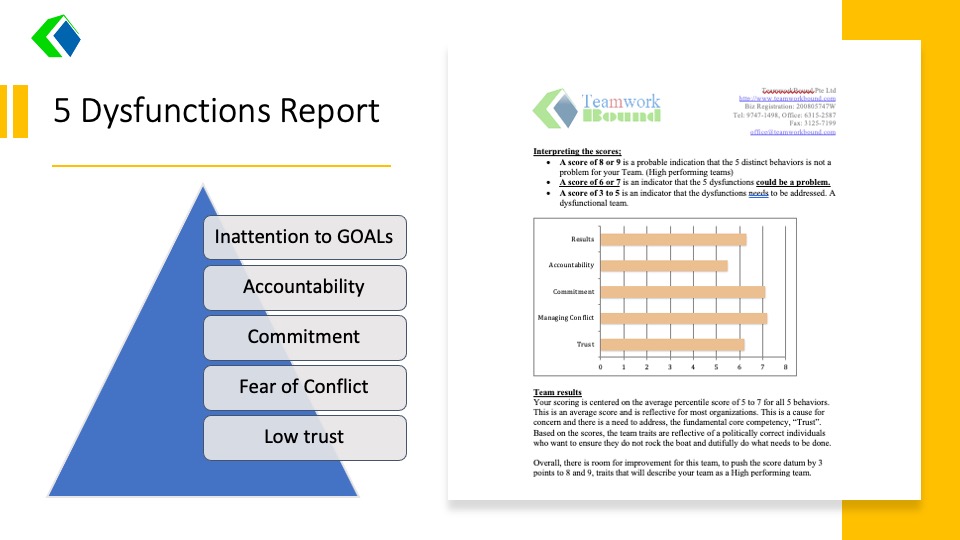 The 5 dysfunction of a team provides team guidance and advice. The  5 dysfunctions of a team has been designed to help you target and address specific dysfunctions in Teams:
Each of the Big Five personality traits is considered to drive a significant aspect of cognition (how we think) and behavior (how we act).
Each trait is completely distinct and independent of the other four traits; for instance, a highly Extraverted person is no more or less likely to be highly Conscientious as well.
For an individual, each of the Big Five personality traits is measured along a spectrum, so that one can be high, medium, or low in that particular trait. This makes the Big Five model distinct from many pop psychology systems
How can I get a 5 dysfunctions report
The process is simple, online you will need to answer 60 questions:
Fill in an online questionnaire called the Self-Perception Inventory. It takes around 20 minutes to complete.
Within minutes, you'll receive your Big 5 Individual report.
This test has been researched extensively to ensure it is valid and reliable. It is based on psychological research into the core of personality and psychometric research.
Your scores show you how you compare to the other people in a large, international sample for each of the Big Five personality traits.
Contact us on this e-mail, office@teamworkbound.com to purchase a report or have a program centred on using Big 5.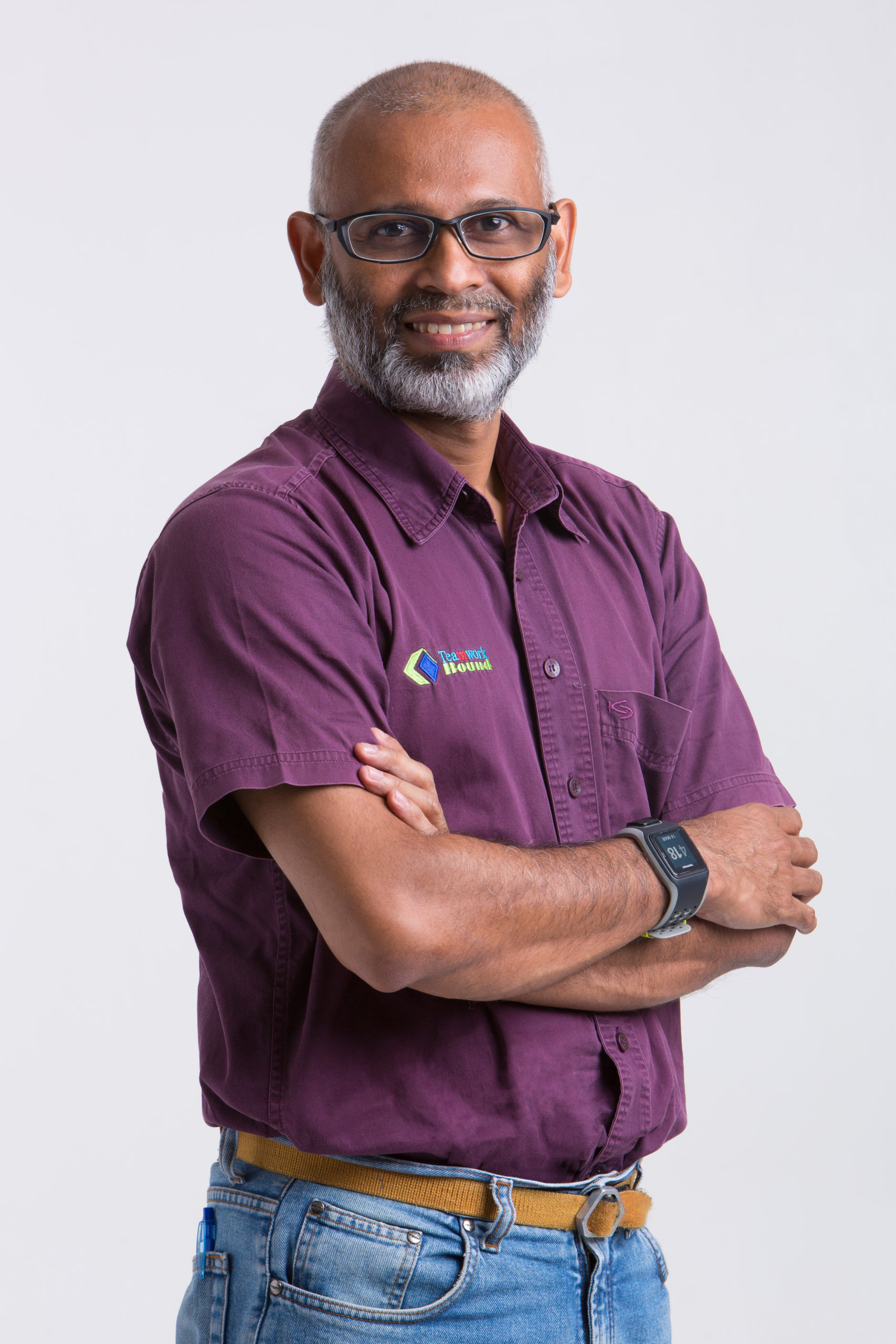 Ebnu Etheris, holds a masters degree in Instructional design. Trained in adult learning, OD interventions and experiential learning. Certified coach, trained in using people assessment tools such DISC, Belbin and Big 5.
Belbin Team Roles certified since 2008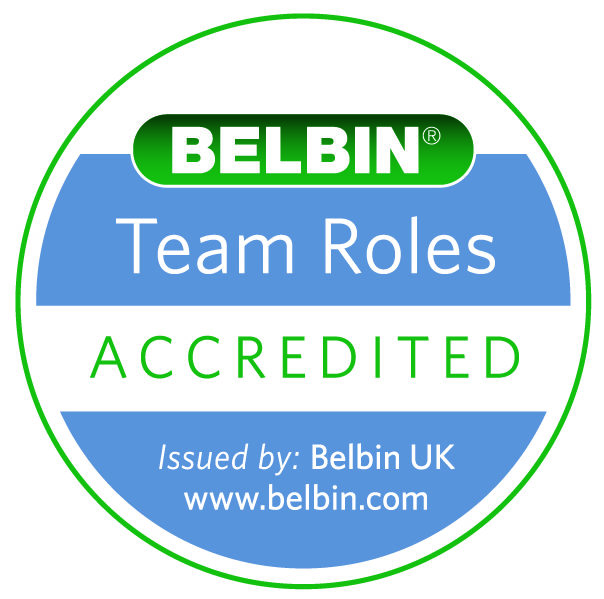 Institute of Organisational Development

DISC certified trainer since 2006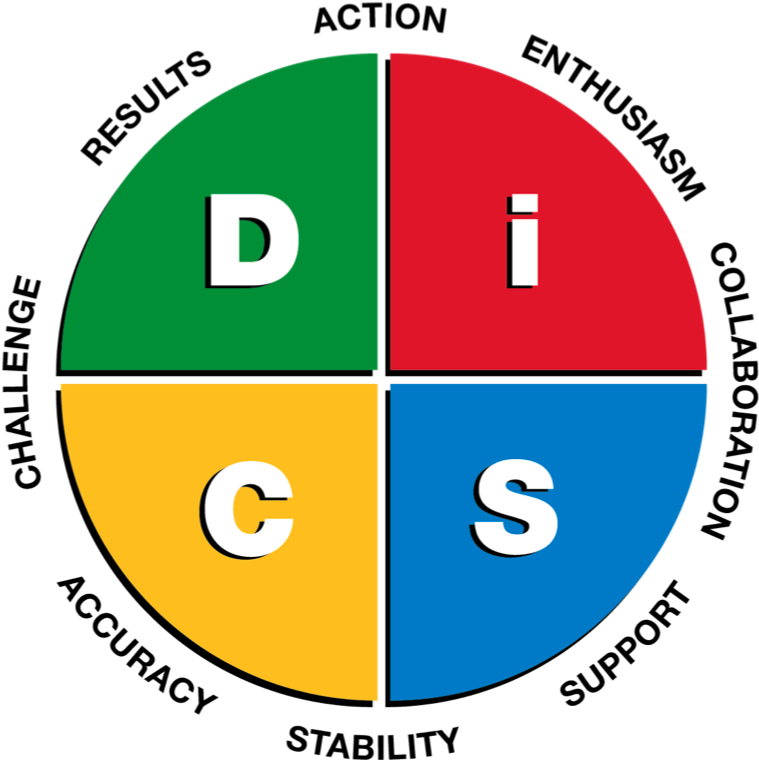 Blog categories