What companies say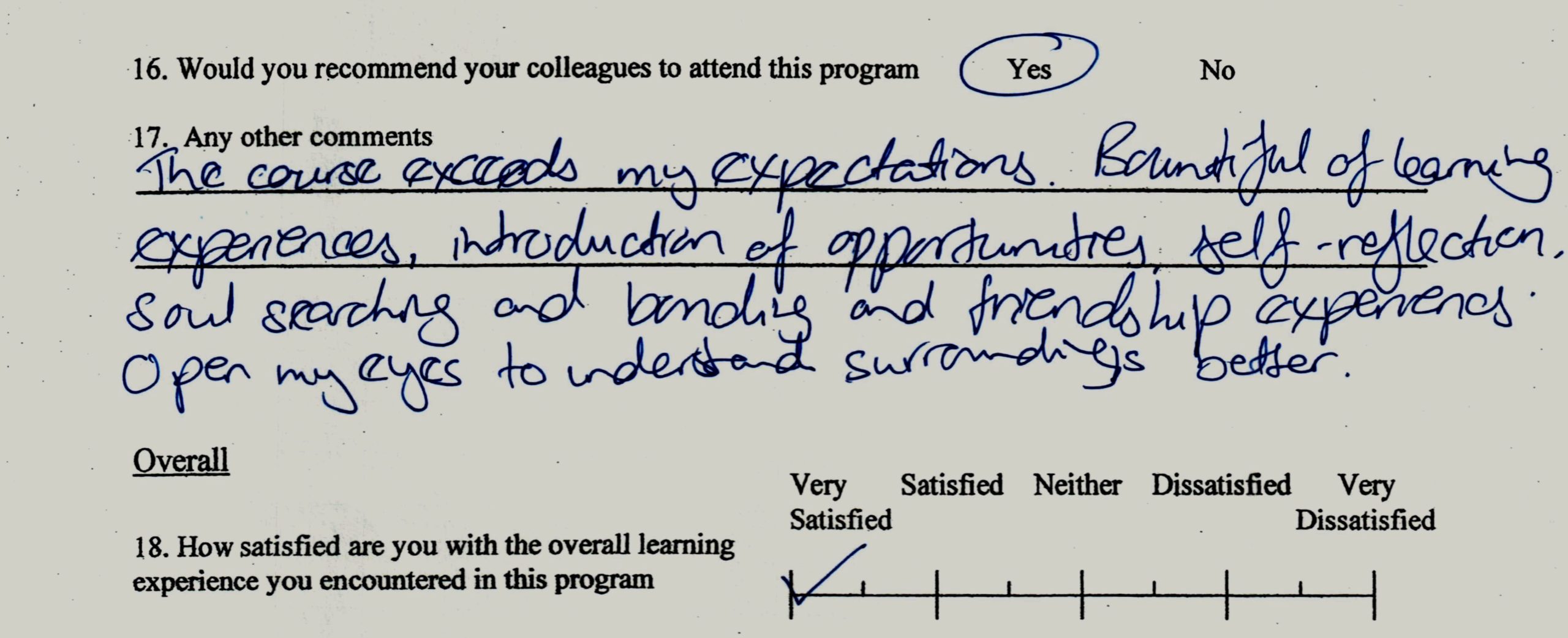 Testimonials
Very good exercises to make certain points, materials. Your great attitude and how open minded you are. You can create a great environment and also very supportive. Thank you very much, definitely would like us to cooperate further.
Olga, Director People and Culture
JTI Singapore
Through the course, I learnt more about myself (my strengths and the areas I lack of & can improve on). I also learnt about how I could spot others' personality and work with them to my advantage. Thank you Ebnu. It's an interesting and engaging workshop and you facilitate really well. I would also like to thank your co-trainers for being so sociable and mingle with us during the break time.
Sherish Yeo
Mitsubishi Electric Singapore
The facilitator was able to relate the information to our working environment, which shows that he takes the effort to understand our company and possible situations that we might encounter at work. The facilitator did not just read off the slides, this shows that he was well prepared for the class.
Anonymous
Radium Medical Asthetics
Alignment of plans – crystallise the learning. The business canvas as a framework and strategic planning
Raymond Wong
CEO, Cordlife Malaysia
Things taught were very practical and easy to understand. Trainer was very engaging and created a relaxing and collaborative learning culture. Good job
Andy
Director, Radium Medical Asthetics
The team building program is refreshing. It is a reminder to me on how to set goals and achieve them. As a triathlete myself, I see the relevance of applying skills learnt in my Ironman race and my sales job too. Good job
Simon Sie
Financial Services Consultant, AIA Singapore
Thank you so much for a great learning experience. I think I have expanded my potential both physically and mentally today!
Maki
Panasonic Hong Kong
I truly enjoyed this workshop! Ebnu made the workshop very interactive and was very engaging. He helped us to better relate the workshop to our working style and also taught us how to apply what we have learnt in the real world. The workshop is very helpful and useful as it helps me to better understand my team's dynamics. It also helps me to better see my team in terms of their DISC personality and work towards engaging in a meaningful working relationship by understanding their triggers and motivations. Thank you for the insightful workshop!
Alifah Rosman
Social Worker, PPIS Oasis
I loved the program and benefited the key takeaways in Strategy & Teamwork that I learnt. Able to use the applications at work
Kathy Pillay
UEMS Solutions
We are able to apply that we need to work as a team as all departments play a part in daily work. We need to listen, brainstorm for more innovations and all problems can be solved
Sylvia Zang
UEMS Solutions
Want you to know that I have gained valuable knowledge and made some essential discoveries about myself in your very memorable course. There was never a dull moment for the two whole days. I truly enjoyed myself and never imagined that learning can be so fun
H Mira
Singapore Police Force
Teamworkbound took great care to ensure safety is considered and an acceptable facilitator to team ratio so that everyone had a quality team building session. I am extremely satisfied and I believe that I can speak on behalf of everyone in the company based on the feedback that I gathered. Great job thanks.
Tan Cheang Geok
MDS Life Sciences
Its an interesting course that brings you out and allows you to practice the lessons learnt in real life.

Julia Chow
Health Sciences Authority
Hi Ebnu, Thank you for the arrangement, My boss and my fellow colleagues are very satisfied with the program and they have a great time over it.

Annie Fong
Senior Analyst, American Pacific Lines
It was a very interesting course and I hope more courses of this nature should be conducted more often so as to enhance the comradeship between fellow officers and the civil service.
Mr. Rashid
Singapore Immigration and Custom
Dear Ebnu, thank you for your valuable contribution in the recently conducted Officer's seminar. We are pleased to note that the Officer's seminar has been a tremendous success with the positive feedback received from all the participants. Thank you for the comprehensive report for the team building session as well.

N.F. Sutanto
Vessel Operations and Crew, Maersk Line Pte Ltd
Ebnu brings with him the energy and experience to get teams to perform in environments that transcends individual showmanship. We value his contribution in the team building program that was conducted for the 1st Sea Soldier's Course (SSC) Sea Expedition.

LTC Kuet Ee Yoon
Republic of Singapore Navy
Drove home the point of importance of Team synergy. Precise and valuable feedback given to the participants, helping us to reflect and see certain issues clearly.

Desmond Fu
Team Manager AIA Singapore
The training helps us to see what can be achieved and it is not an insurmountable task ahead

Audrey Yap
Financial Services Consultant, AIA Singapore
Ebnu has been very patient in conducting the workshop. Most of all he's very engaging citing a lot of real life examples that were very easy to understand and apply to daily work life
Penny Wong
JTI
This is an informative and engaging course. The course trainer was interactive and gave us ideas for brainstorming sessions. We get to know our teammates better too, understanding our strengths & weakness that will form a stronger team
Sylvia Zang
UEMS Solutions
Get started with Teamwork Bound
Want to learn what Teamwork Bound can do for you? See for yourself with a free trial, tests and short in house speaking engagements. We will assure you that our program evaluations meet 85% percentile score, failing which we will not charge for our training sessions.