We completed a program designed specifically for middle managers. We started off with "purpose". Dan Pink in his book, "Drive" shared the 3 building blocks towards bringing engagement our approach emphasizes the significance of "Going out of your comfort zone" to enhance professional growth and effectiveness. Specifically;
Experiential activities
A mix of using experiential activities indoors and use of a high elements ropes course was used in this program. As oppose to throwing participants into relentless bouts of activities, we covered 4 activities in 1 day.
We captured what the participants had say about their experience on the high elements.
Program overall was well evaluated. We ensured we did not lump ourselves into a hole, where we just ran one activity after another. Rather, we ensured:
Critical academic findings on managing teams were shared
Related the session to the "Purpose" slate of the organization
Facilitated the meaning behind going out of the "comfort zones"
Participants got to reflect on their leadership styles and attributes whilst planning their own development plans
This is what one participant had to say.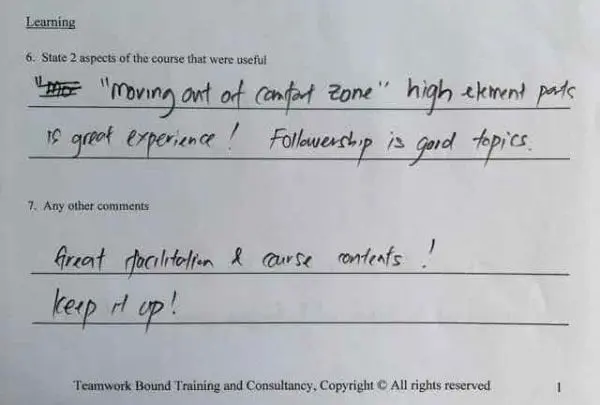 Contact us at 6315 2587 or e-mail us office@teamworkbound.com for programs centred on teams, strategy planning, behavioural insights and organizational development.
Related Posts
Top 10 activities
This blog will showcase top 10 experiential activities that we have conducted in our training programs. Included are models associated with experiential learning, team dynamics, understanding personality and leadership. We will showcase crisp summary of good books we have read on this blog as well.
Ebnu Etheris
MA.IDT and B. Ed & Trn
Founder Teamworkbound
Magazine Feature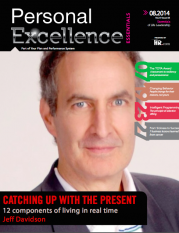 Personal Excellence Magazine (Aug 2014 issue) based in Canada featured our article.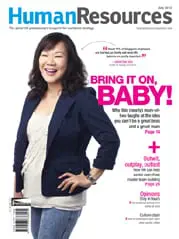 Human Resources Magazine (July 2012 issue), featured Teamwork Bound views on what it takes to engage senior managers.
Our Evaluations
Get started with Teamwork Bound
Want to learn what Teamwork Bound can do for you? See for yourself with a free trial, tests and short in house speaking engagements. We will assure you that our program evaluations meet 85% percentile score, failing which we will not charge for our training sessions.