Benefits of Getting Senior Executives involved
For the senior executives the Team building program will provide opportunities for all managers to come together. Usually the demands of the corporate rat race, e-mails and conflicting challenges between departments' results in misunderstandings that may not wholly represent the individuals they are working with. Team building sessions provides opportunities for senior managers to step back and be involved in activities that will allow senior managers to get to know one another in a personal way. I completed a training program recently for a group of civil servants. Towards the end of the day, very spontaneously one team member walked over and hugged another member of the team. That spontaneity puzzled me as the team explained; they had a nasty conflict prior to the session at the work place. As you can see, it provides opportunities to enhance interactions and break down the walls of pre conceived perceptions and judgments about one another. It this instance it patched up a conflict.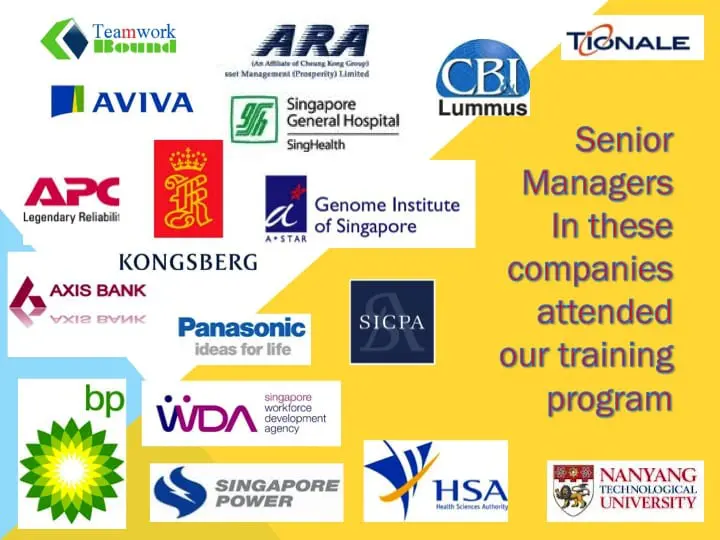 Organizations with Senior Managers whom we worked with
For senior managers team building activities designed with the business goals in mind, will get all team members on to the same page. It creates opportunities for all departmental heads to pull in one direction to meet the challenges facing the organization. It sets the tone and expectations. Managers walk away from such a program with a determined mindset to follow through on their goals and timelines they need to achieve them. Moreover, inter disciplinary collaborations with departmental heads breaks down silo thinking.
Team building program design
In our design, our experience have shown us that when senior team members are able to share their personal traits, behavioural preferences at work and their leadership styles, they tend to come closer. Use of profiling tools such as Belbin, DISC and leadership insights provides senior managers with subtle and tacit information that is useful to both the individual and when shared as a Team, it becomes impactful. We have helped departments to chart their Team's best competencies using Belbin.
Patrick Lencioni, in his book, the 5 dysfunctions in a Teams, detailed, "absence of trust" as the core building block of a dysfunctional team. Hence, building trust by not just taking on a random activity by playing games or simply listening to hot air to get motivated, but through the use of profiling tools and sharing that information amongst senior management team is hugely beneficial. We have experienced this in our training programs.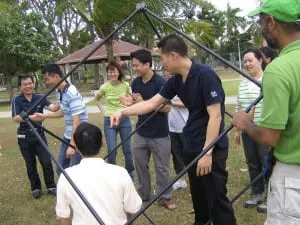 Team Cube Activity
Differentiating management from staff is very much dependent upon learning outcomes, organisational size and operational needs of the organization to name just a few. For instance not all organisations can shut the work place down for one day and get the entire staff together for the team building session. Likewise, when strategy is discussed, the needs are usually for the senior team members to be together as oppose to the entire staff. However, there are benefits to have both the senior management team and the entire staff to be together. As organisations grow, the tendency for senior managers to not know their entire staff well enough becomes apparent and team building activities involving the entire staff will allow managers to interact firsthand with their staff who handle operational issues on the ground. There isn't one matrix that will suffice, but having a different permutation of staff with line managers, senior managers only for strategy planning and senior managers with the entire staff are some approaches that we consider and suggest to our clients when we develop our training programs
Ebnu Etheris, Ma(IDT), B.Ed&Trn and D.(HRD)
Lead Facilitator, TeamworkBound
Related Posts
Here is a quick youtube tutorial on incorporating Kahoot in your training programs. Using tech to facilitate training sessions. From icebreakers to team building using Kahoot can happen in face to face sessions too.

Rarely we get to see a Team that personifies high standards. Working out a solution that is complex and taking the standards up one notch higher. One of the most functional teams we have worked with, Genome Institute of Singapore.
Top 10 activities
This blog will showcase top 10 experiential activities that we have conducted in our training programs. Included are models associated with experiential learning, team dynamics, understanding personality and leadership. We will showcase crisp summary of good books we have read on this blog as well.
Ebnu Etheris
MA.IDT and B. Ed & Trn
Founder Teamworkbound
Magazine Feature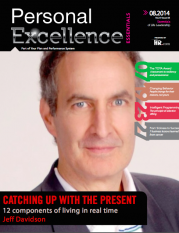 Personal Excellence Magazine (Aug 2014 issue) based in Canada featured our article.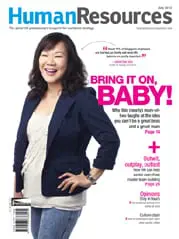 Human Resources Magazine (July 2012 issue), featured Teamwork Bound views on what it takes to engage senior managers.
Our Evaluations
Get started with Teamwork Bound
Want to learn what Teamwork Bound can do for you? See for yourself with a free trial, tests and short in house speaking engagements. We will assure you that our program evaluations meet 85% percentile score, failing which we will not charge for our training sessions.